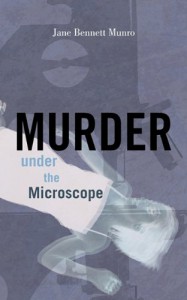 Jane Bennett Munro is a semi retired forensic pathologist. Over her 33 year career in medicine she gained all of the information that aided her in writing this suspenseful mystery. I was surprised to find that Murder Under the Microscope is her first book.
From the moment I first picked up the book I knew I wouldn't be able to put it down. I read the first 100 pages the first night and couldn't wait to finish the book the next morning. The book totaled 418 pages and I absolutely devoured it!
The book is based on the setting around the fictitious Perrine Memorial Hospital in Twin Falls, Idaho where Dr Antoinette (Toni) Day is a pathologist who is loved by all of her colleagues. All of her colleagues, except one.
The book has "whodunits" around every corner. Every time I would think I had it figured out some other character popped up as a suspect. I can only describe this book as mind-blowing. I loved the style of Munro's writing and how, on each chapter, she started off with a quote; those quotes ranging from William Shakespeare to Sir Arthur Conan Doyle.
Her co-workers, her home life, everything Dr. Day knows is turned upside down by one person who shows up to take over for another doctor who is out sick. Murder under the Microscope gives you everything you love in a good mystery book. It is full of all the suspenseful elements - murder, mayhem, kidnapping – needed to create a nail-biting mystery novel. Dr. Day's elderly mother eventually becomes part of the capers that go on and only adds to the enjoyment of the story. Everyone in the hospital is under suspicion including the Doctor's own husband Hal, their attorney and their next door neighbors. I don't want to spoil the book for you but this whole story is absolutely worth reading!
Jane Munro's writing is very creative. I can't believe this is her first book. It should be on the Bestseller list. I could also see this book being made into a movie. I am very happy to say that I believe there is a new & rising author on our literary hands. I highly recommend that you read Murder Under the Microscope. She is nearly completed with a sequel which I intend to read soon. I am looking forward to it immensely! I am a keeper of books and this is one series I am certain to keep on my shelves.
Murder under the Microscope is available on Amazon.com, Jane's blog jbmunro.wordpress.com and Facebook. Congratulations to Jane Bennett Munro for giving me all the hours of suspense, murder & mayhem I love in a great book!
Review by Bridget Bergeron
Closed the Cover